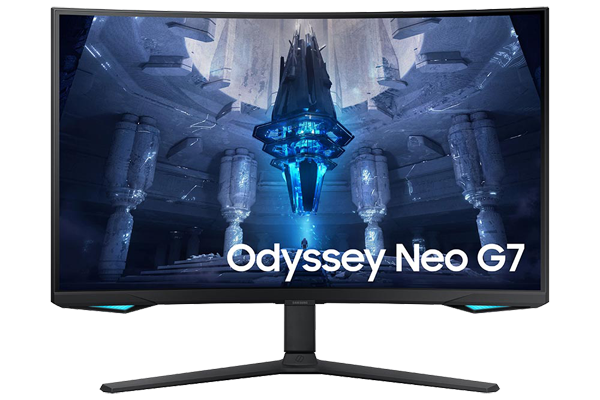 SAMSUNG Odyssey Neo G7

Go Beyond

A curved, ultra-wide monitor for smoothest competitive gameplay.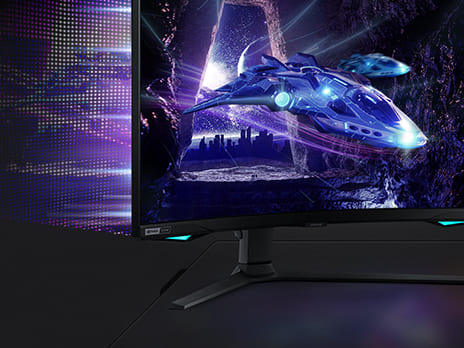 Spellbinding visual quality

Quantum Mini-LED, which achieves next-generation depth with Quantum HDR2000, delivers exceptional picture quality, placing Odyssey Neo in its own class.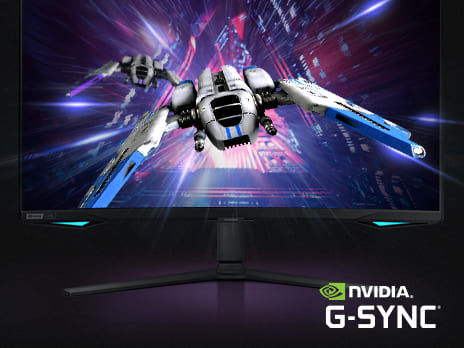 Next level gaming performance

Supported on a 165Hz refresh rate, as well as NVIDIA G-Sync compatible, the G75NB has been enhanced for performance gaming. The 1ms response time allows for gamers to perform at the highest level.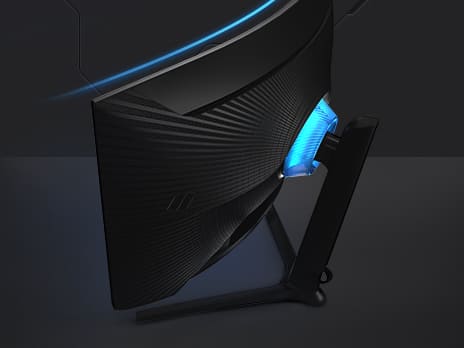 Reality-bending immersion

Mimicking the arc of the human eye, the 1000R curvature brings gaming worlds to reality, surrounding players for deeper immersion and more satisfying gameplay.
The universe of immersion just expanded

Quantum Matrix Technology

An unrivaled visual experience. Revolutionary Quantum Matrix Technology with Quantum Mini LEDs creates controlled brightness and perfect contrast for refined definition. Local dimming zones were increased to 1,196 and combined with the highest 12-bit black levels to create unmatched picture quality.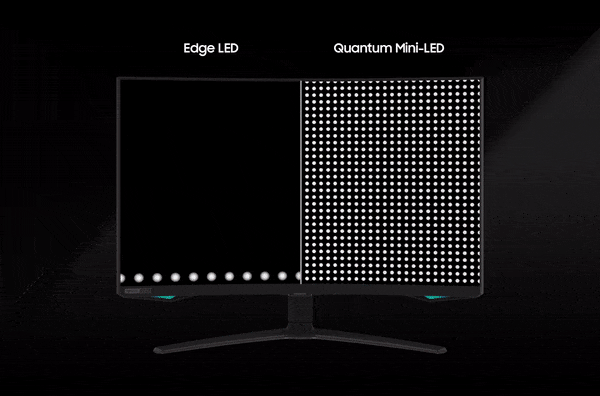 Catch the detail, defeat your enemies

Quantum HDR 2000

See every detail in all its glory. From gloomy shadows to sun-scorched scenes, 2,000 nit peak brightness and 1,000,000:1 contrast ratio enable enhanced color expression and depth. Get a competitive edge while playing Ray Tracing games by spotting hidden enemies using their reflections.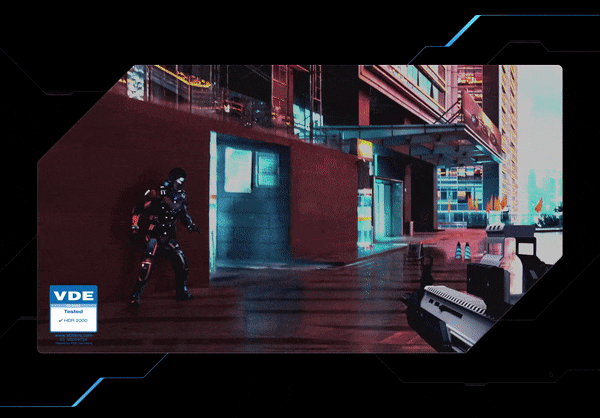 Hyper-real worlds on your screen

UHD resolution

Experience games as if they are reality. With UHD resolution, the Odyssey Neo G7 allows gamers to witness images in high quality, and true-to-life detail. Immerse youself in the world of your choosing.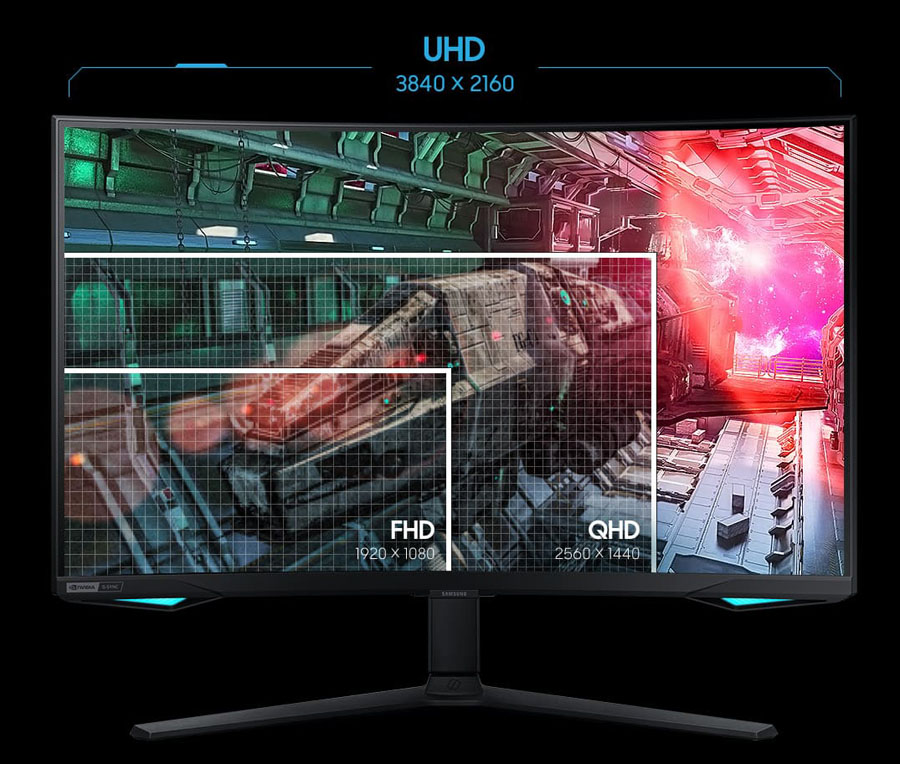 Incredible 4k gaming refresh rates

165Hz refresh rate & 1ms

Conquer every enemy, even at extreme speed. 165Hz refresh rate eliminates lag for exhilarating gameplay with ultra-smooth action. Identify enemies with elite precision with a 1ms response time, precise mouse movements, and blur-free frames, with no ghosting.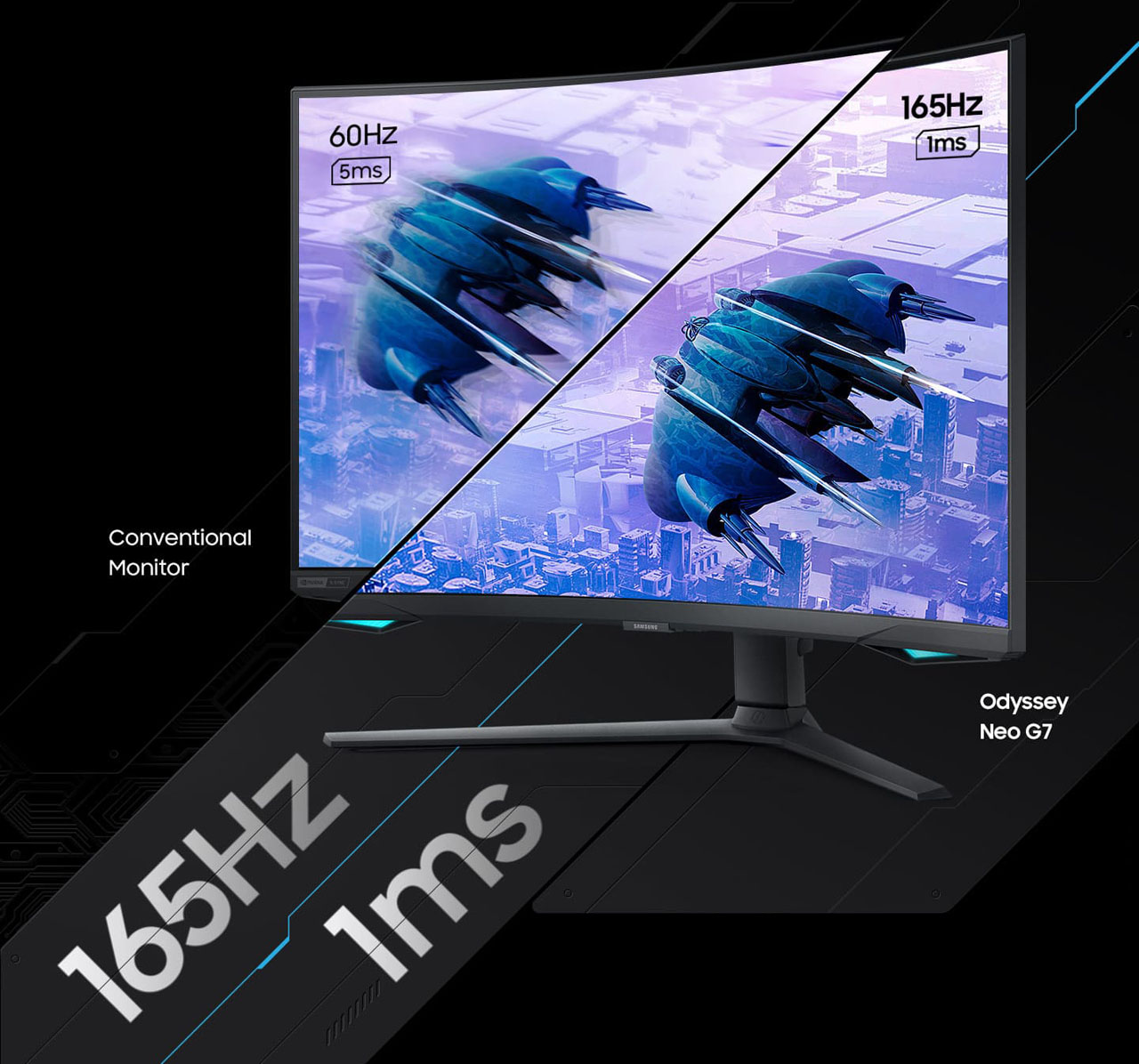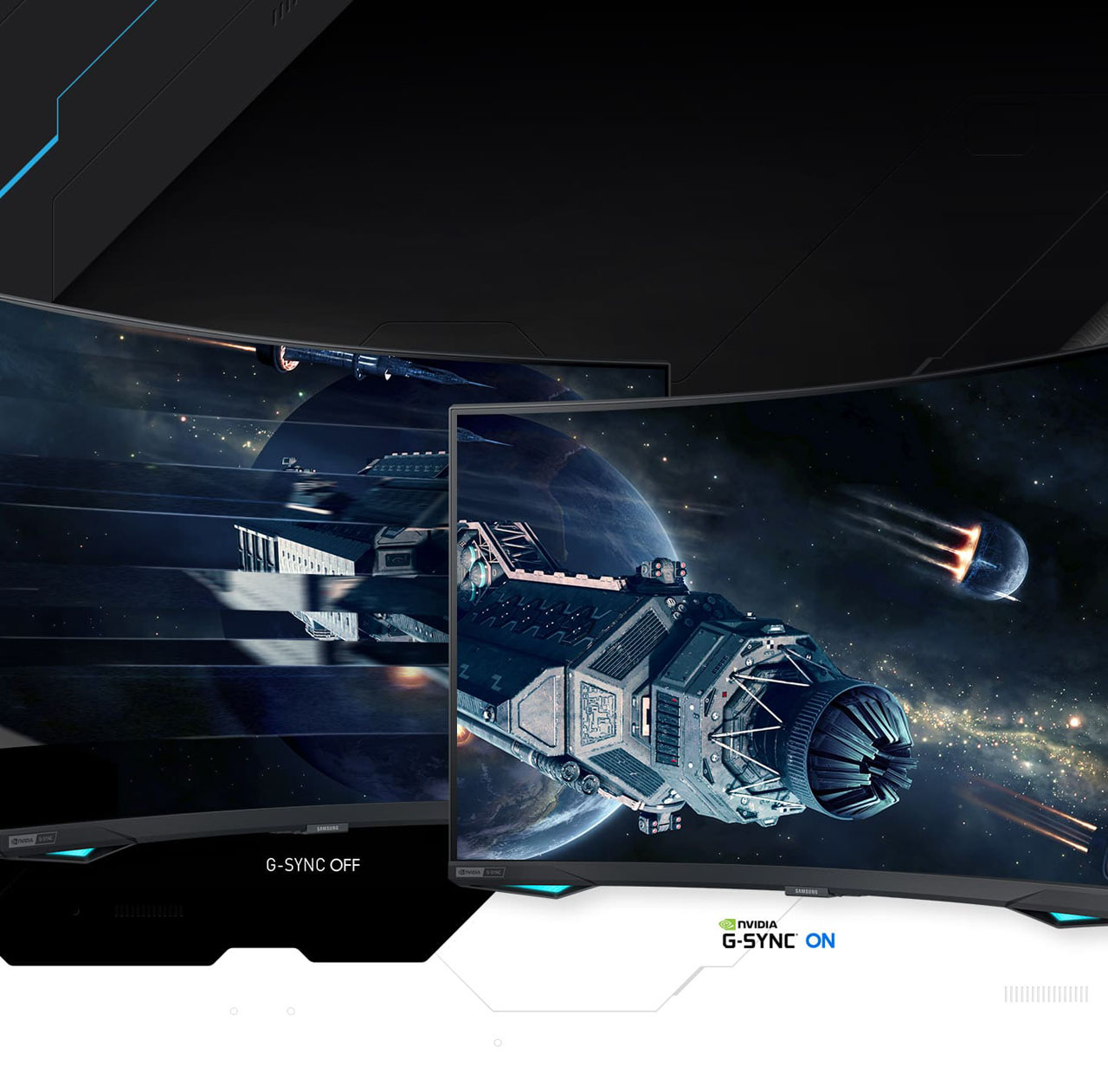 Focus without ever breaking flow
Nvidia G-sync compatible
Hyper action made seamless. Nvidia G-Sync compatibility keeps the GPU and panel synced up to eliminate choppiness, screen-lag, and image tears. Fast-action and complex game scenes are stable and stutter-free with AMD FreeSync Premium Pro for your competitive edge.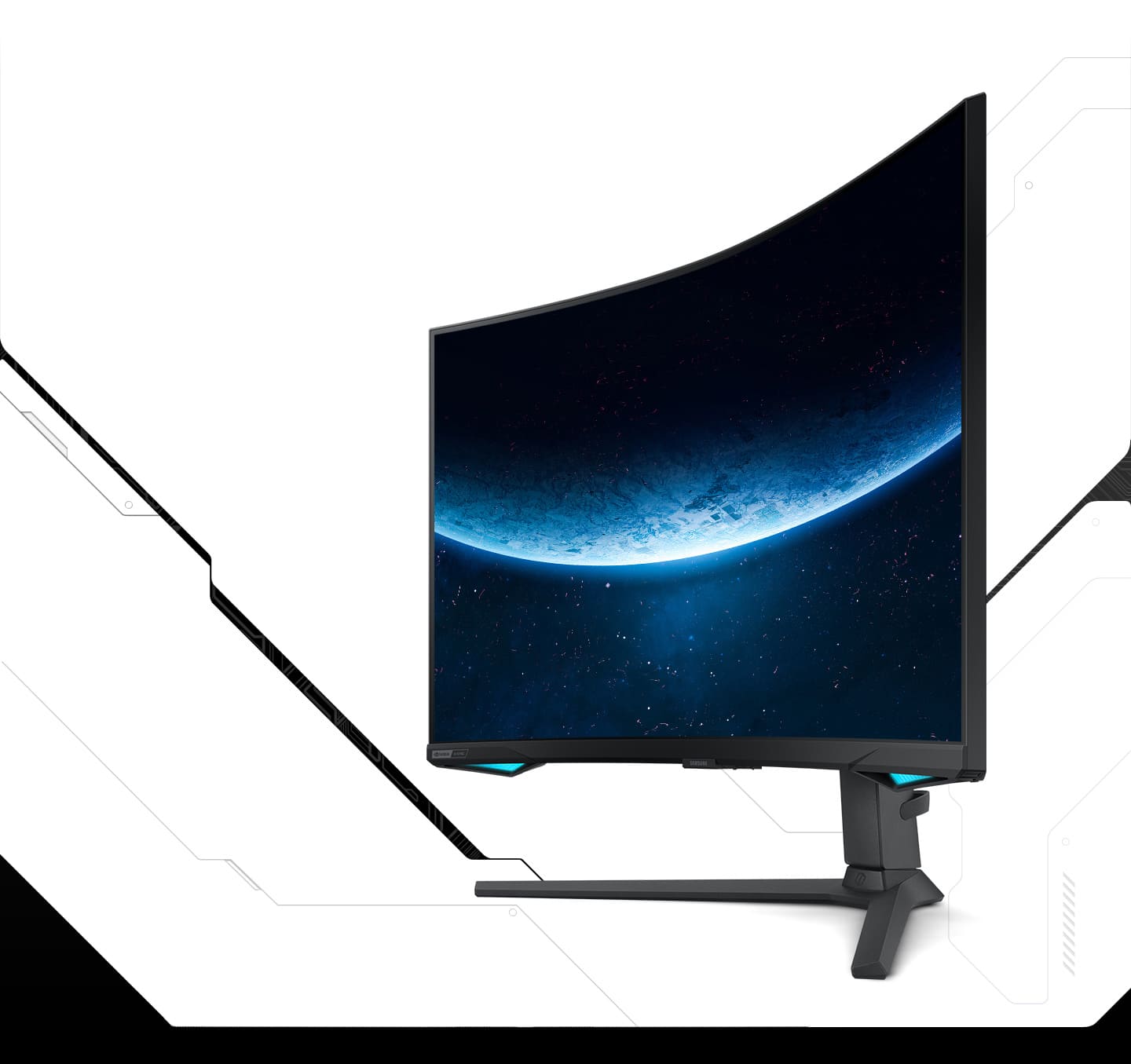 Overwhelm Your senses
1000R curvature
Vivid scenes wrap even more tightly around you. Experience the next level of heart-pounding gaming that's superior to anything you've seen before. The 1000R 32-inch super ultra-wide display fills your peripheral vision and draws you into the character's shoes.
Designed to light up your world

Core lighting design with CoreSync

Surround yourself in every scene. With core lighting, add personality to your setup with multiple color modes that leap off the screen and into your reality. Gaming escapes beyond the screen with CoreSync technology that matches your game's on-screen colors for world-blending immersion.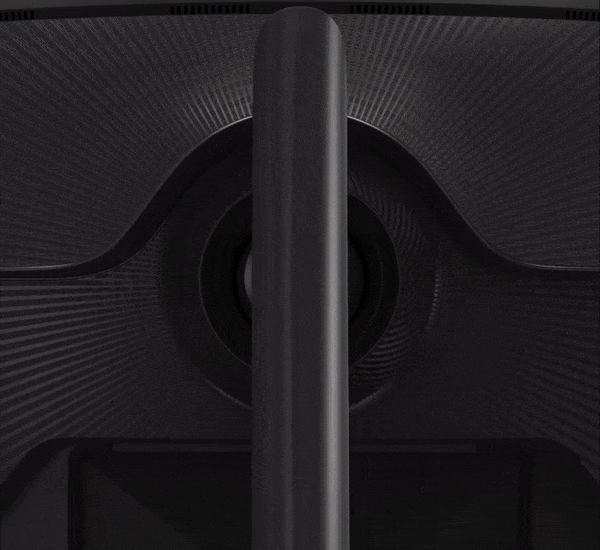 Unseen sides revealed

Ultrawide Game view

Find more with extended view. Discover hidden gems or flank enemies in full stealth with the ultrawide 21:9 aspect ratio. Extra context in every match brings you closer to the top of the leaderboard.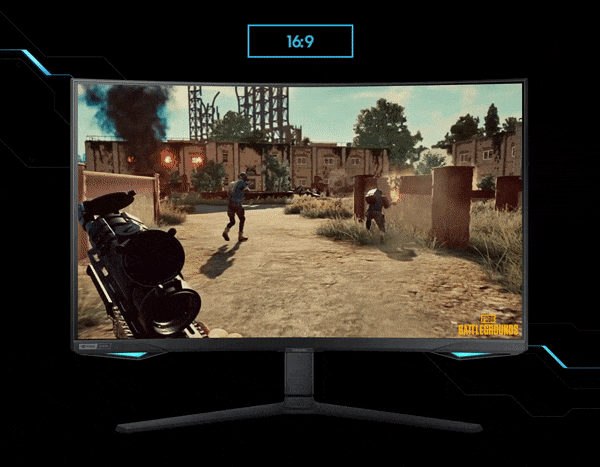 Connect automatically, in an instant

Auto Source Switch+

Power on for instant play. With Auto Source Switch+, your monitor detects when connected devices are turned on and instantly switches to the new source signal. This helps you get to your game action faster without flipping through multiple input sources.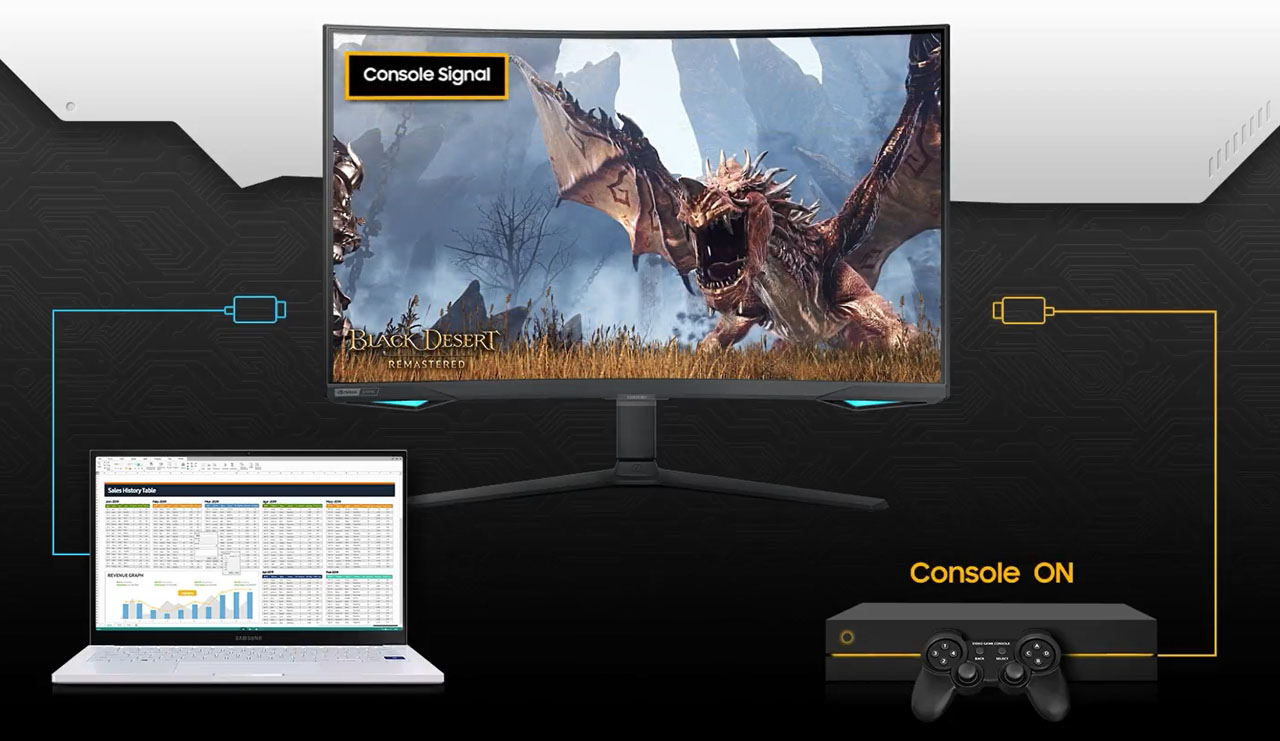 Convenience in mind

Ergonomic Stand

Find your winning position. Swivel, tilt, and adjust the height until you're set up for victory. Fully compatible with VESA-standard monitor arms, the screen can be moved effortlessly to your ideal position. Multiple ports are easy to access, and hook up to your favorite devices with no mess.