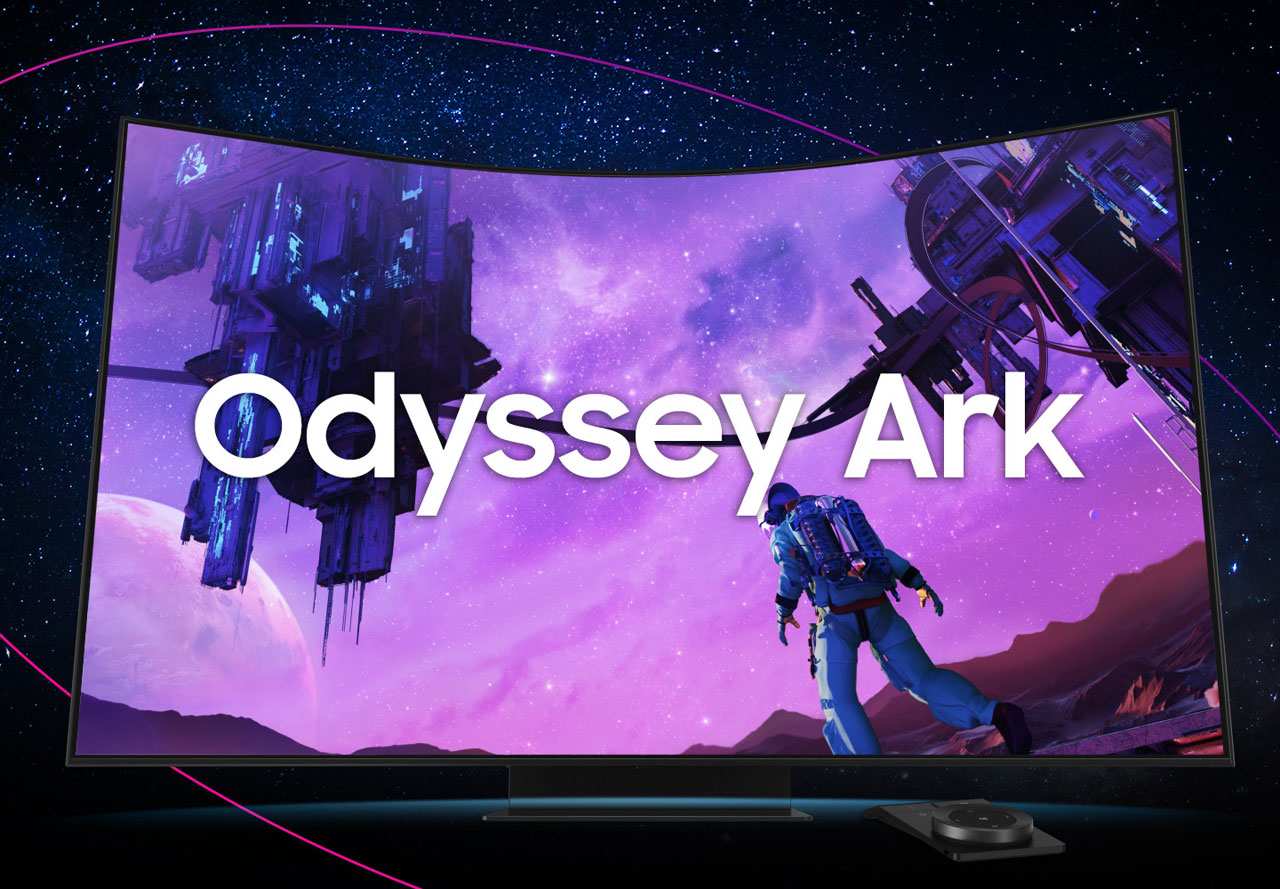 A new frontier in gaming

See more on the Samsung Odyssey Ark's 55", 1000R curved screen. Prepare for victory and minimize game disruptions with a 165 Hz refresh rate, 1ms (GTG) response time and variable refresh rate support with AMD FreeSync Premium Pro. Quantum Mini-LED achieves next-generation depth to deliver exceptional picture quality, enhanced by Dolby Atmos and Sound Dome technology for immersive surround sound. Find your perfect display by rotating the screen to Cockpit Mode. With one touch of our model-exclusive Ark Dial, adjust screen size and ratio to enjoy multiple content sources at once.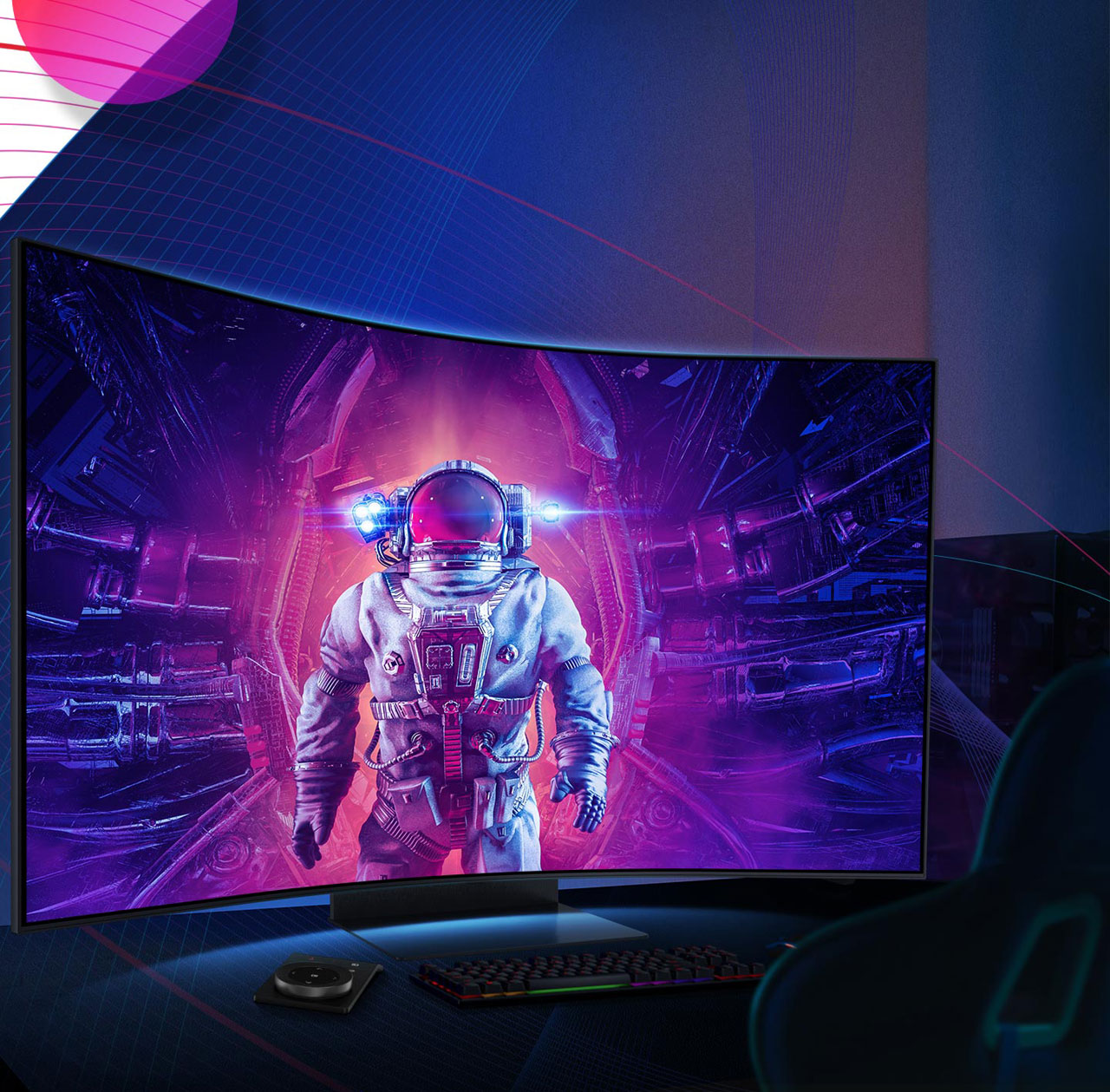 Overwhelm your senses
55″ large screen & 1000R curvature
The massive 55" screen delivers a display that overwhelms your senses, creating an adrenaline-fueled experience superior to anything seen before. The 1000R curvature wraps around your field of vision for maximum immersion. There's no better monitor to upgrade your gaming setup than Odyssey Ark.
* Optimal viewing distance is at over 2.6ft.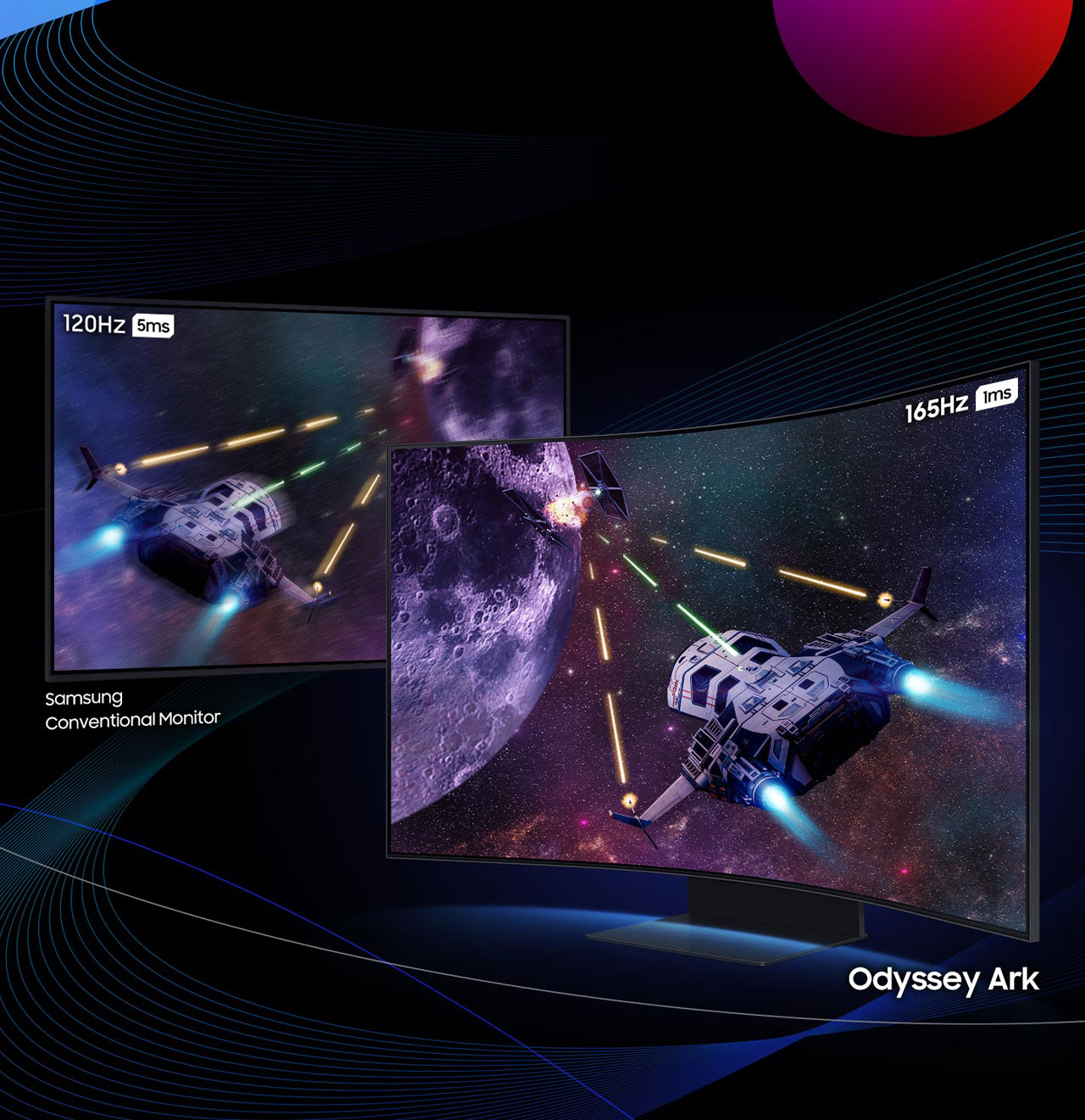 Incredible 4K gaming refresh rates
165 Hz & 1ms
Conquer every enemy, even at extreme speeds. Ark's 165 Hz refresh rate virtually eliminates lag for exhilarating gameplay with ultra-smooth action. Identify enemies with elite precision with the help of a 1ms response time, precise mouse movements, and blur-free frames, with minimized ghosting.
Swing into groundbreaking views

Cockpit Mode & Eclipse Lighting

Take control of your personal gaming cockpit. Rotate the screen to Cockpit Mode with HAS, tilt and pivot functionality for an optimal screen environment. This customizable positioning creates a new sense of world-blending immersion, further enhanced by ambient Eclipse Lighting.
* To display in 9:16, vertical selection is required during initial setup.
** Screen should be manually rotated for cockpit mode.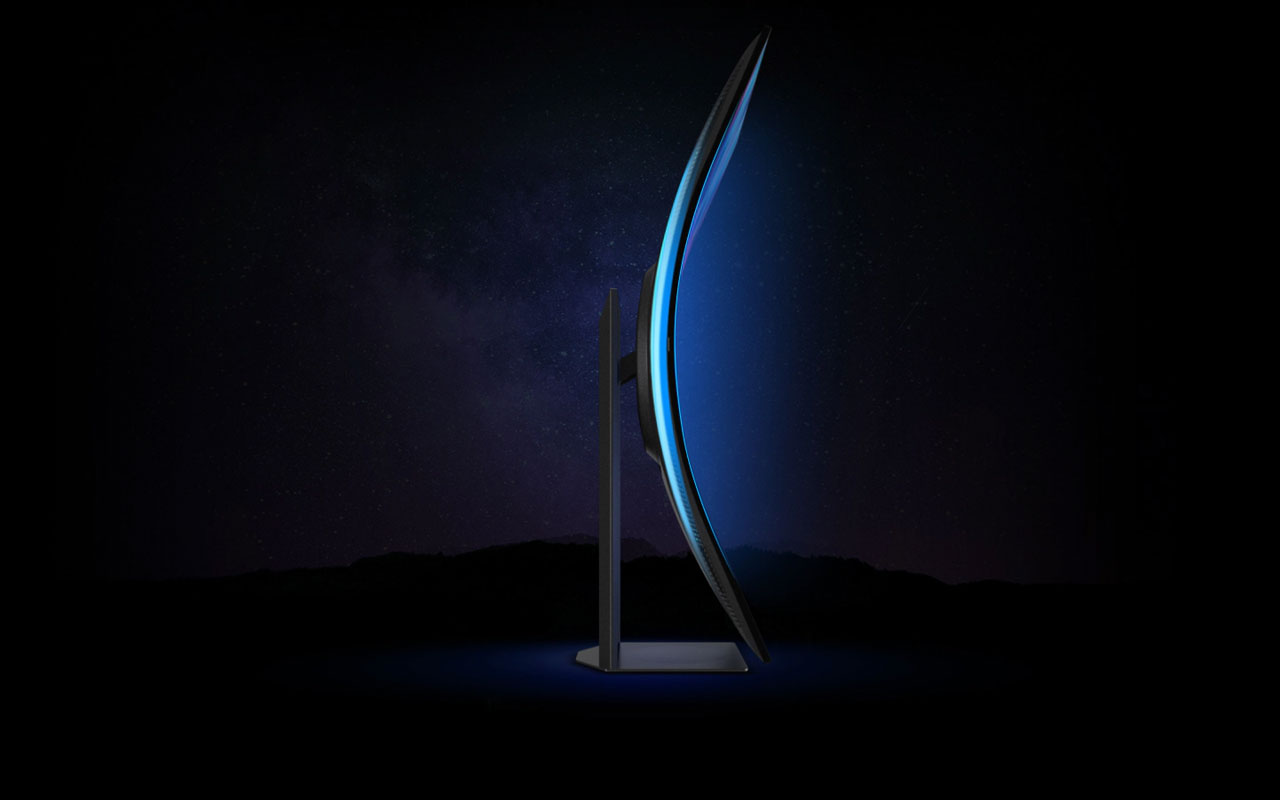 Engulf yourself in sound

Sound Dome Technology

Lose yourself in a world that sounds as good as it looks. Four corner speakers and two central woofers produce a 60W 2.2.2 channel with the lowest 45 Hz notes of any gaming screen or sound bar. AI Sound Booster and Dolby Atmos take it to the next level, surrounding you in a three-dimensional soundscape that teleports you inside the gaming world.
* Frequency response is measured based on internal testing conditions.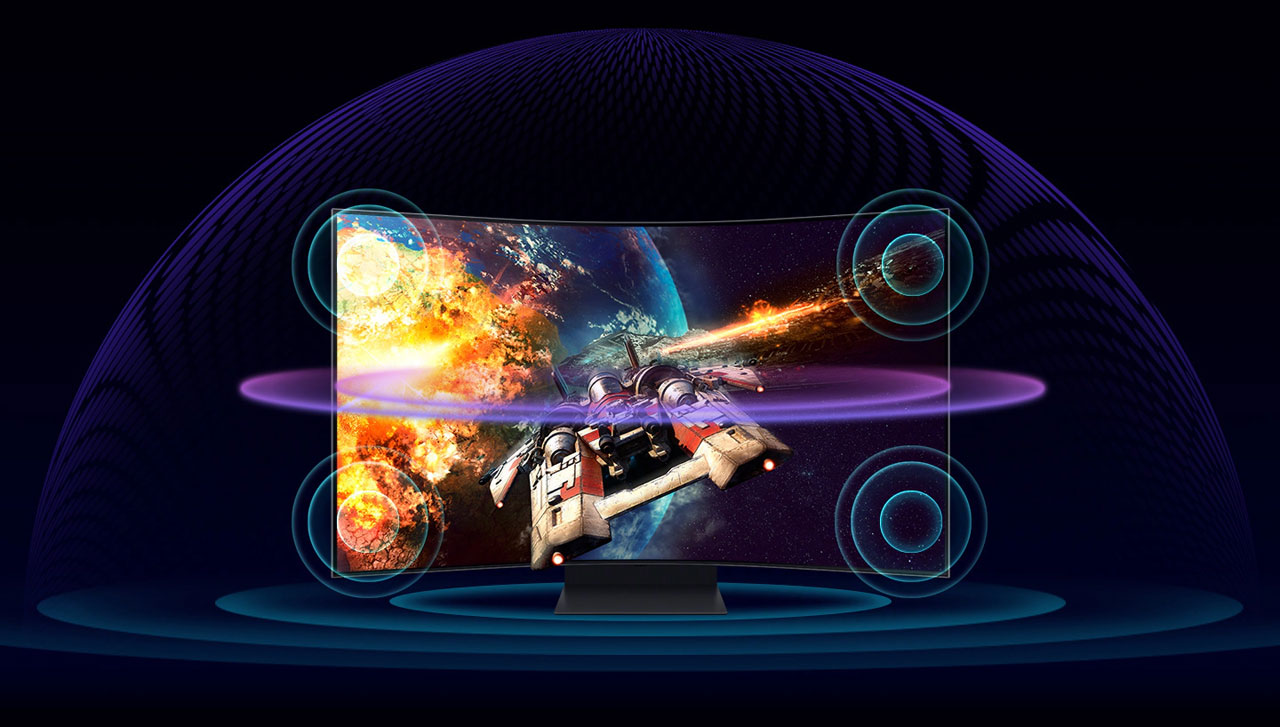 More possibilities on a single screen

Multi View

No more getting distracted by multi-screen setups. Multi View feature allows users to play up to 4 screens at once, all on a 55" wide screen. Plus, built-in apps such as YouTube and Samsung TV Plus offer a Smart TV experience so gamers can now play, stream and browse all on one screen. Odyssey Ark really has it all.
* In Cockpit Mode, Multi View can only show up to 3 screens on one display.
** Game Mode, VRR, and Cloud Game are not supported while in Multi View mode.
*** Only one external input (including HDMI) and one mirrored device screen can be displayed.
**** While in Multi View mode, refresh rates of up to 120 Hz are supported for external inputs.
***** Some Smart Hub features may not be supported depending on the service provider, language, or geographical area.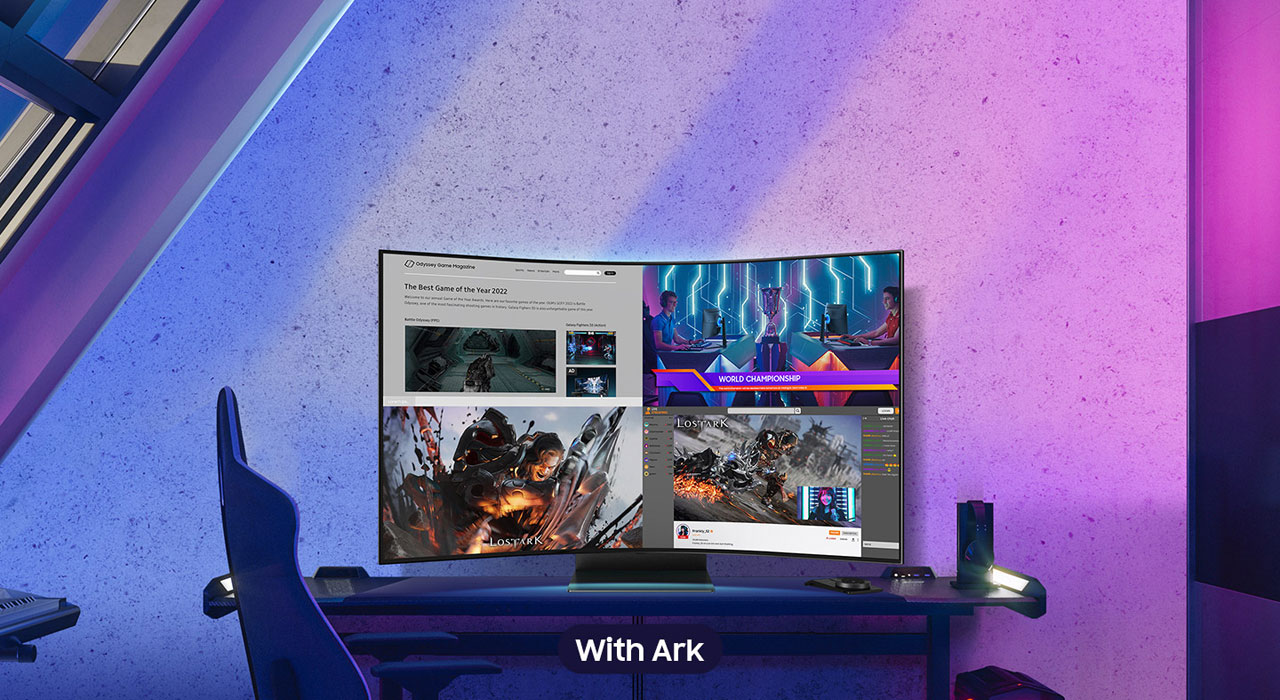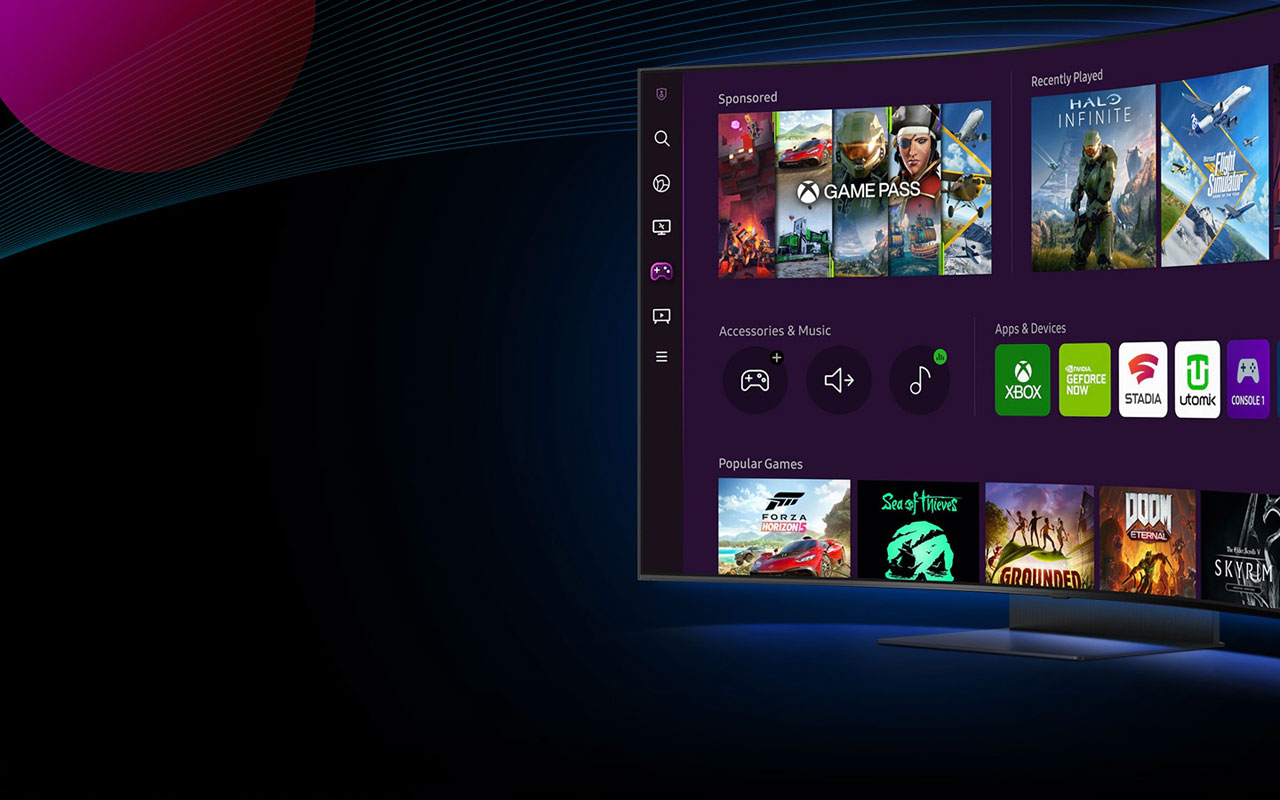 Where gaming comes together
Gaming Hub
The ultimate home for gaming all in one place. Gaming Hub allows instant access to top streaming services, as well as your favorite console and PC games. Smooth visuals and responsive gameplay are powered by Samsung's advanced game streaming technology without downloads or storage limits — just turn on Ark and play.
* Gaming Hub is available in limited countries, with app availability differing by country.
** Accessing Gaming Hub is free of charge. Subscription may be required to access content offered by game-stream providers on the Gaming Hub platform.
*** A separate controller may be required depending on the specific game in Gaming Hub.
**** PC source icon in Gaming Hub is only supported on Ark.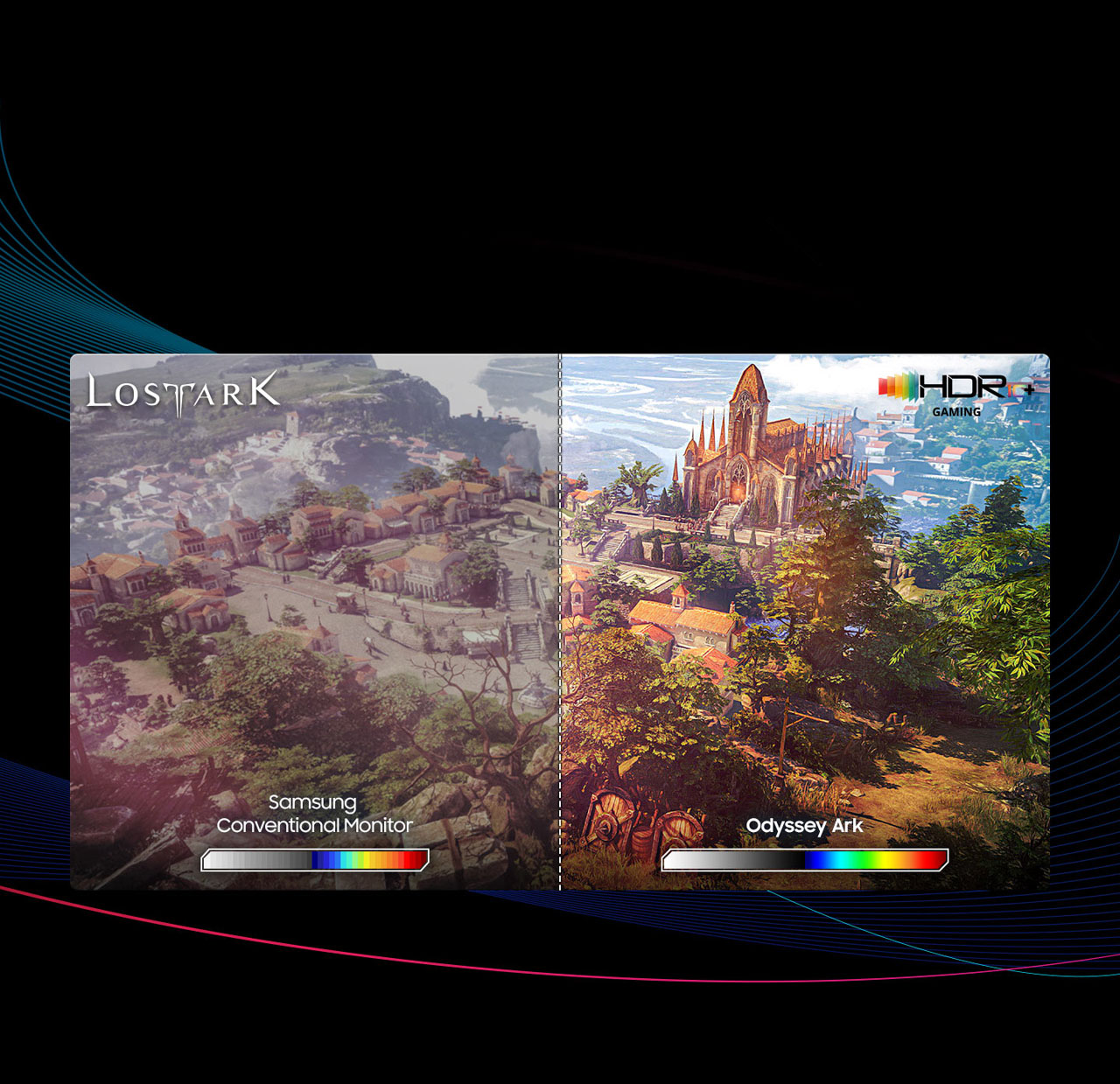 In-depth detail for a competitive edge
HDR 10+ gaming
See every detail in all its glory. From gloomy shadows to sun-scorched scenes, the 1,000,000:1 contrast ratio enables enhanced color expression and depth. Get a competitive edge with HDR 10+, which automatically adapts games in real-time to show you every detail that could lead to victory.
AI-enhanced 4K cinematic experience

Neural Quantum Processor Ultra

By combining 20 multi-layer neural networks, the AI-Powered processor cleverly analyzes images to restore every detail, pixel by pixel. Automatic brightness adjustment, contrast amplification and enhancements optimize the resolution of whatever you're watching.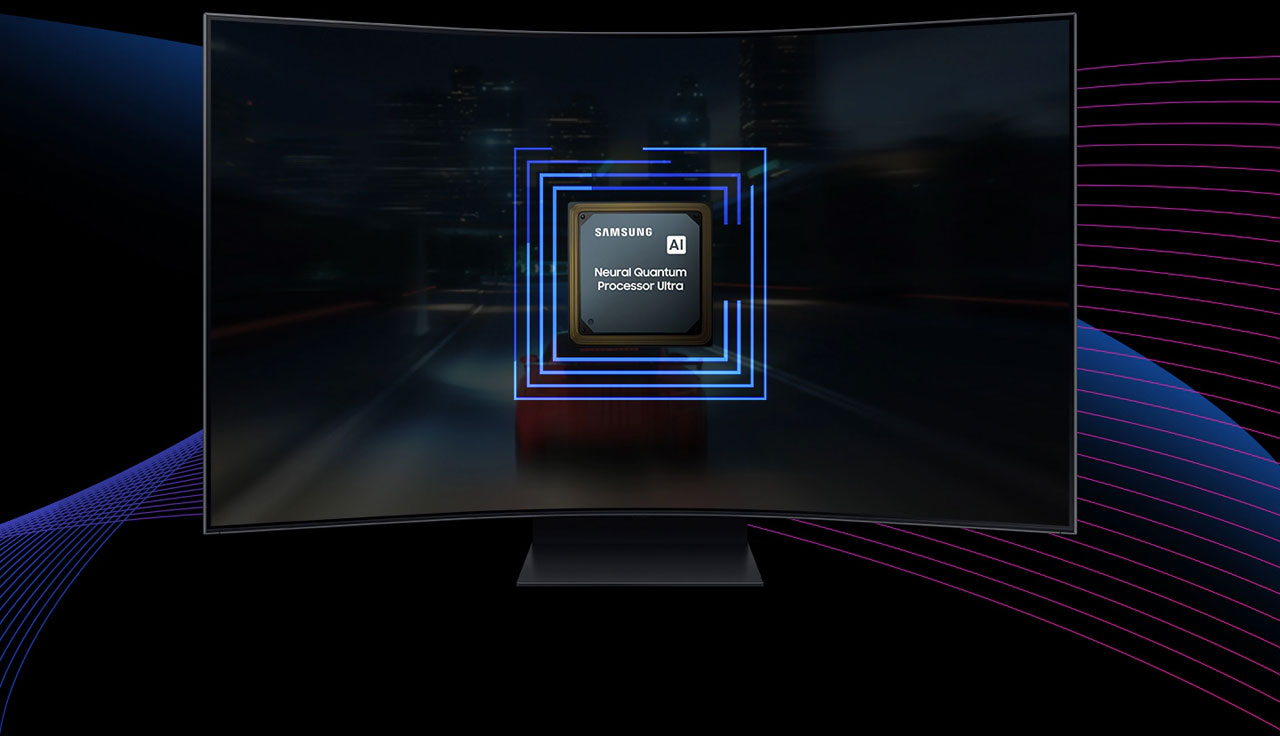 Exclusive controller at your command

Ark Dial

Ark Dial puts the player in full control of their screen, allowing quick and simple access to a variety of functions — including Flex Move Screen, Multi View, Quick Settings and Game Bar. The solar-powered controller is an innovative exclusive that allows the user to command the Ark freely and push forward.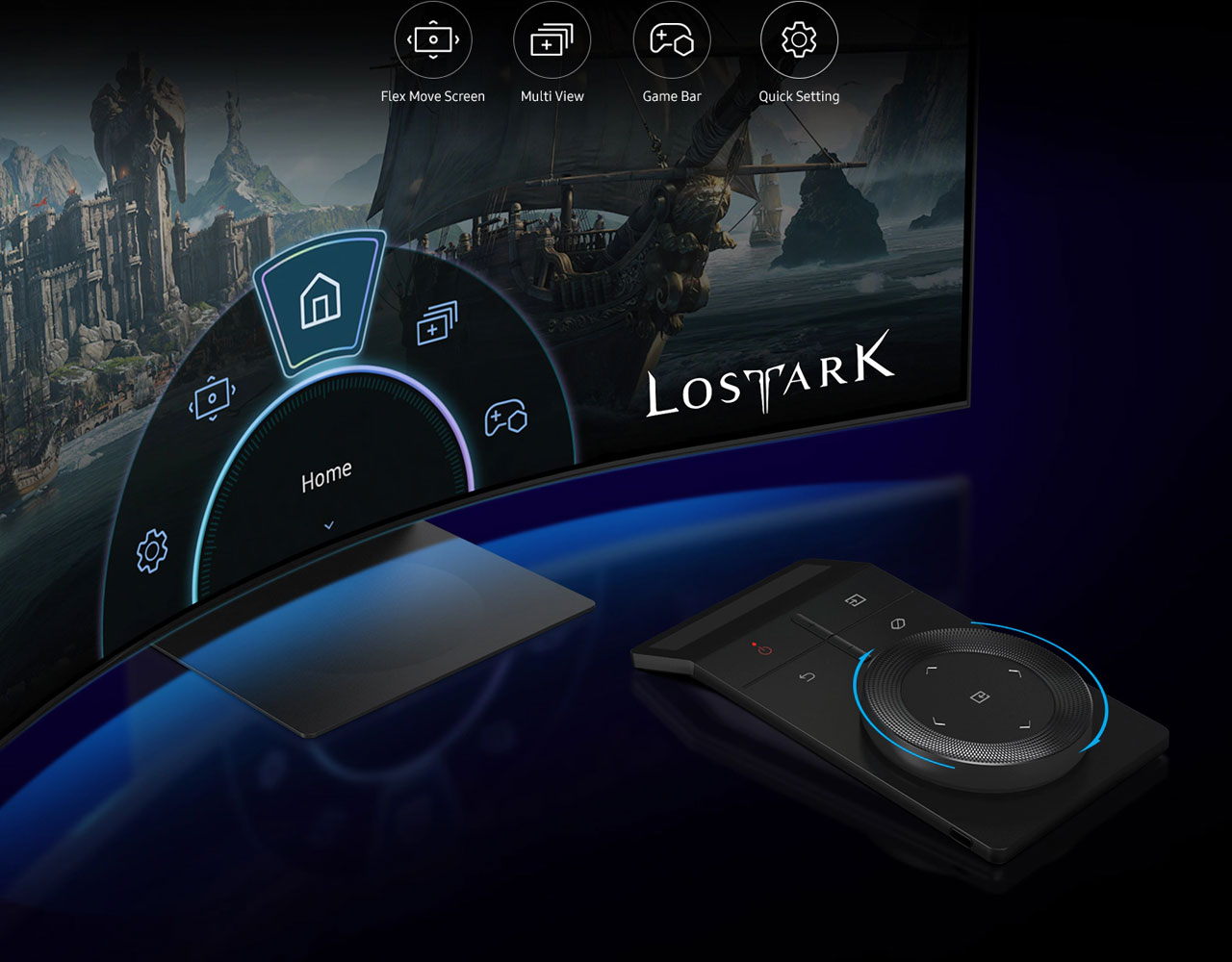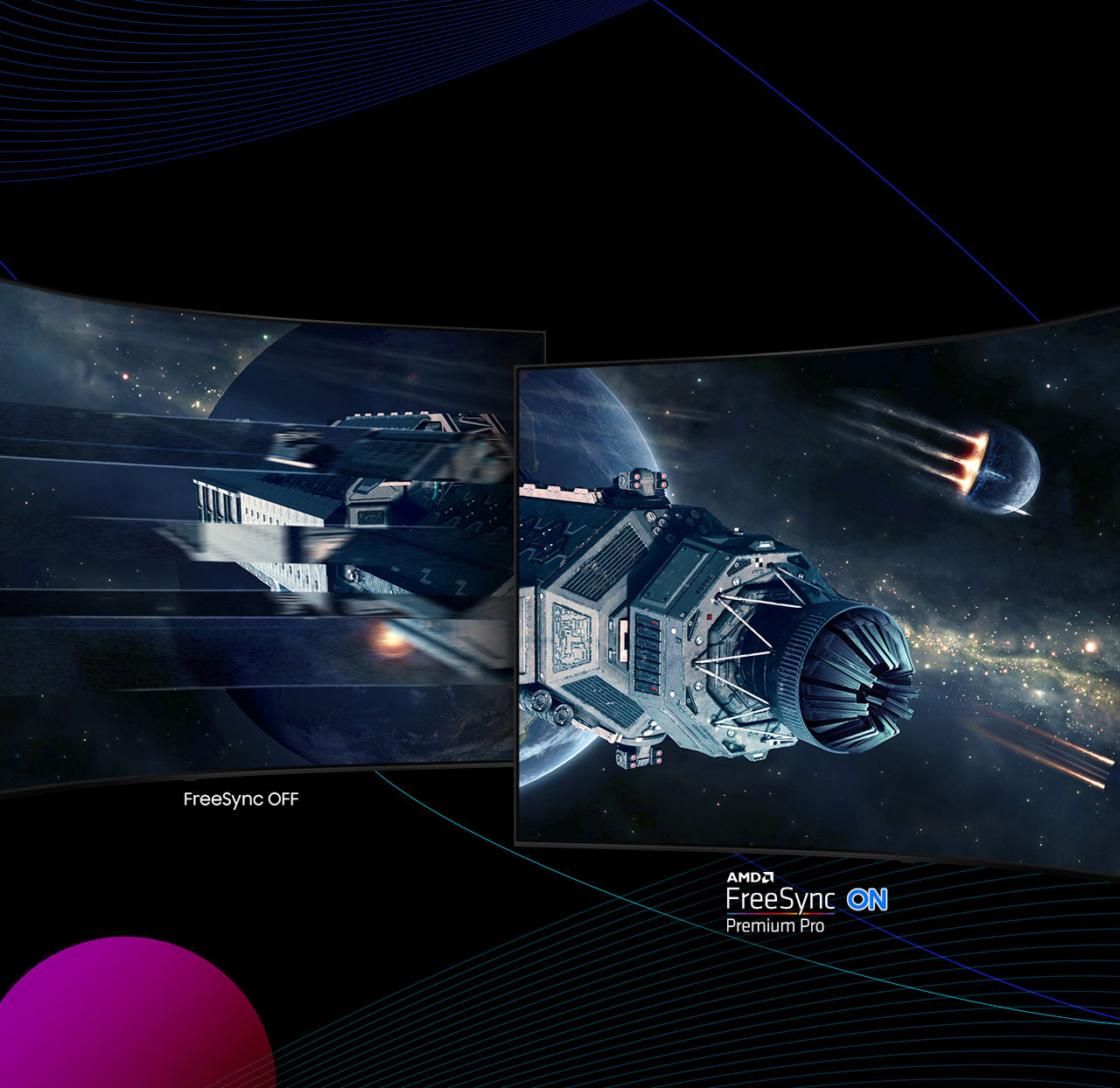 Focus without ever breaking flow
AMD FreeSync Premium Pro
Hyper action made seamless. Support of Variable refresh rate (VRR) with AMD FreeSync Premium Pro keeps the GPU and panel synced up to virtually eliminate choppiness, screen-lag, and image tears. Fast-action and complex game scenes are stable and stutter-free for maximum competitive edge.
Shape the screen for optimal setup

Flex Move Screen
Six layouts mean you'll always have the ideal winning position. Flex Move Screen enables users to change screen size from 55 to 27 inches, move the screen position and adjust ratio (16:9 > 21:9 > 32:9) quickly and easily with Ark Dial. Experience the freedom to flex while playing any game.
* On-screen content simulated for demonstration purpose.
** Adjust screen ratio through the Game Bar or Quick Settings.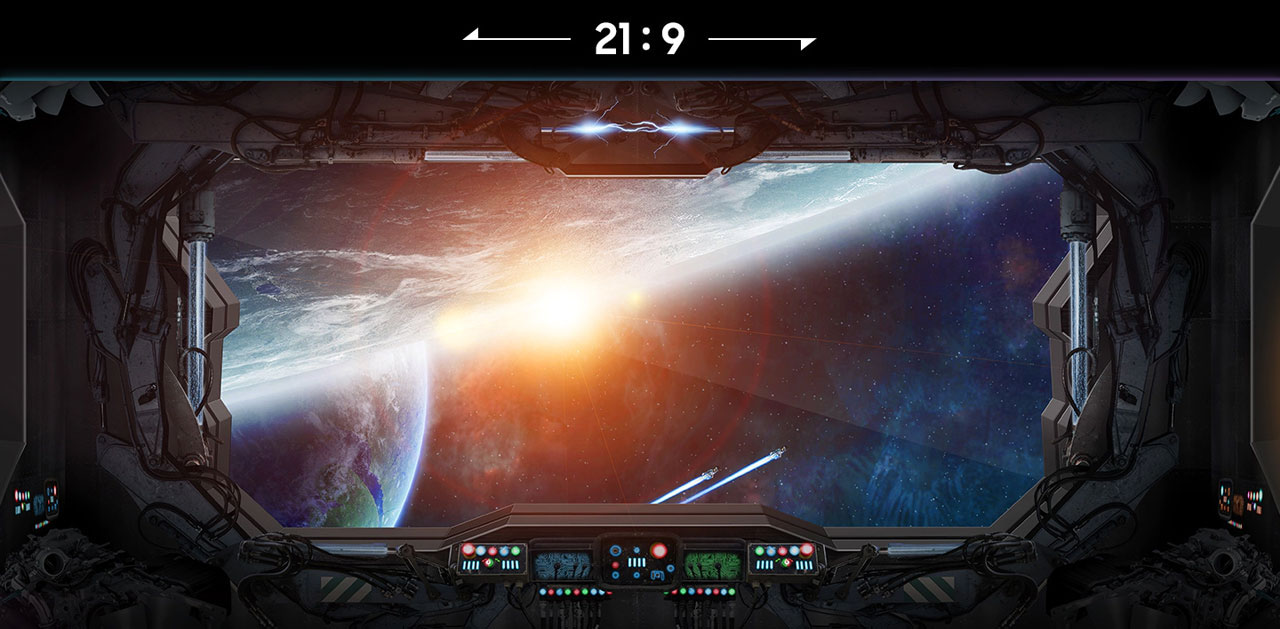 Enter a new era of immersion

Quantum Matrix Technology
An unrivaled visual experience with adaptive luminance. Revolutionary Quantum Matrix Technology with Quantum Mini LEDs provides controlled brightness and perfect contrast for refined definition. The advanced 14-bit back light unit allows detailed HDR control which creates unmatched picture quality.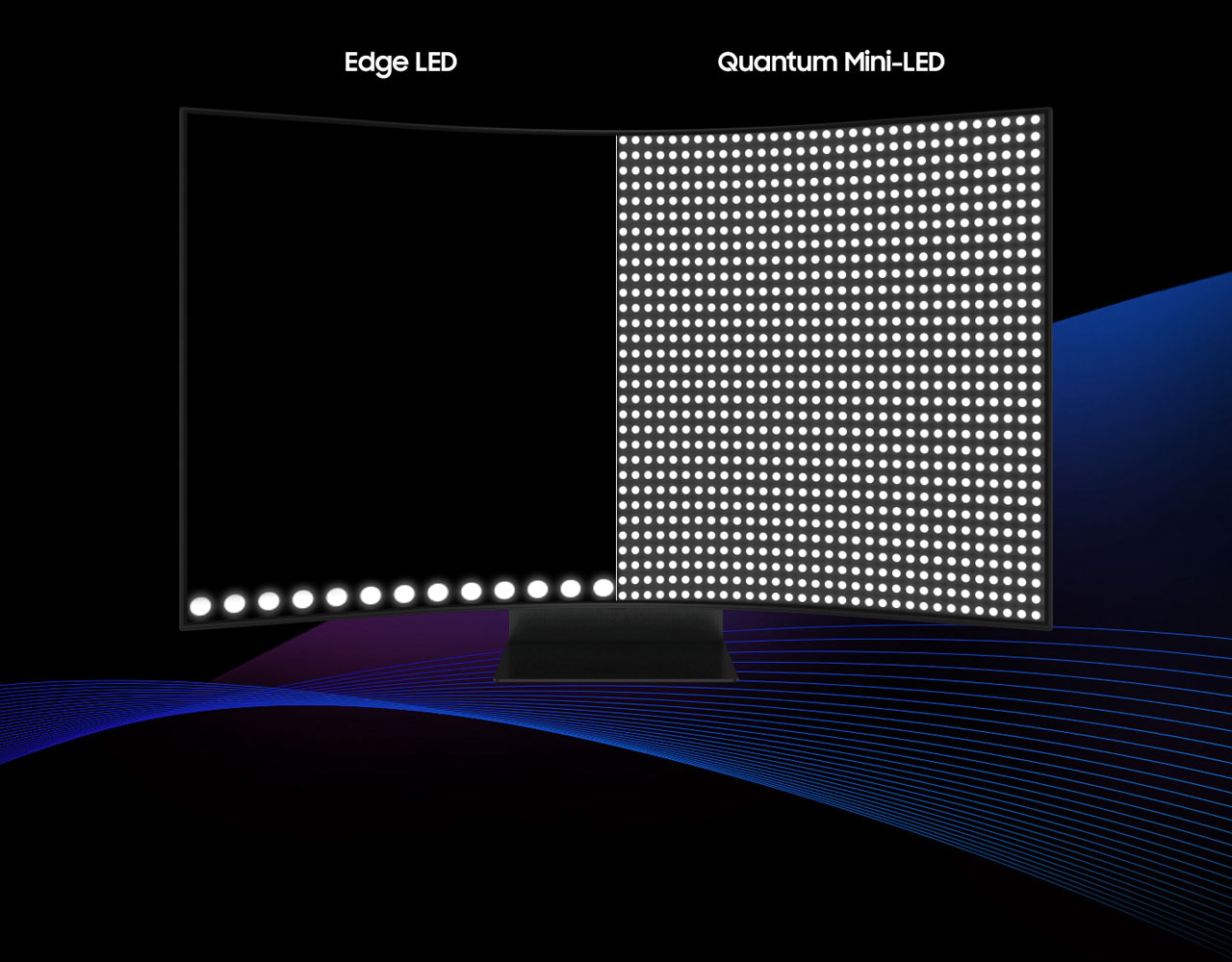 Never be distracted by glare

Matte display
Focus only on what matters with sAGAR (Super Anti-Glare, Anti-Reflection) film. The Ark's matte screen absorbs artificial and natural light instead of causing interruptions from glare, keeping you laser-focused during the toughest battles and hardest levels.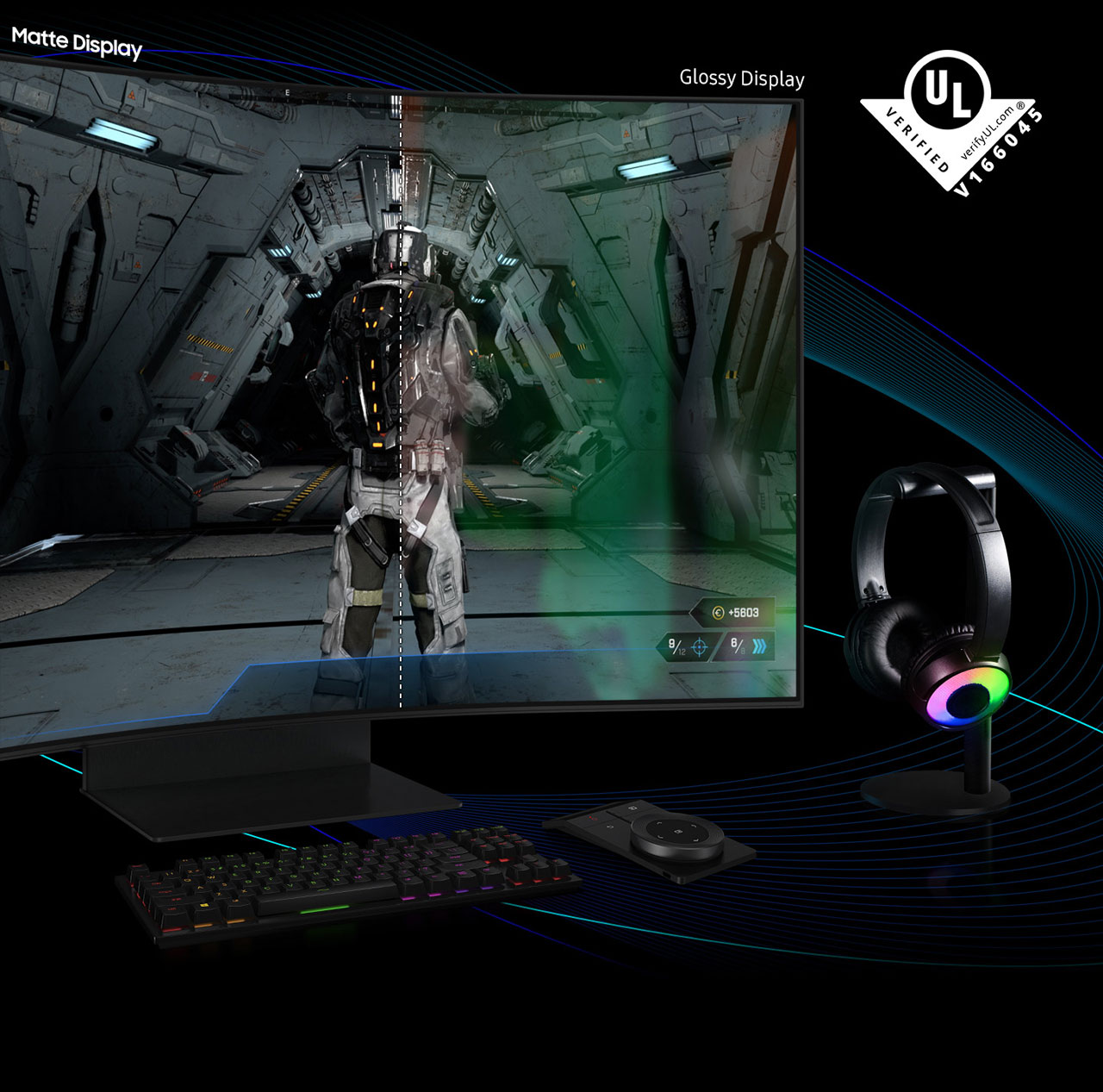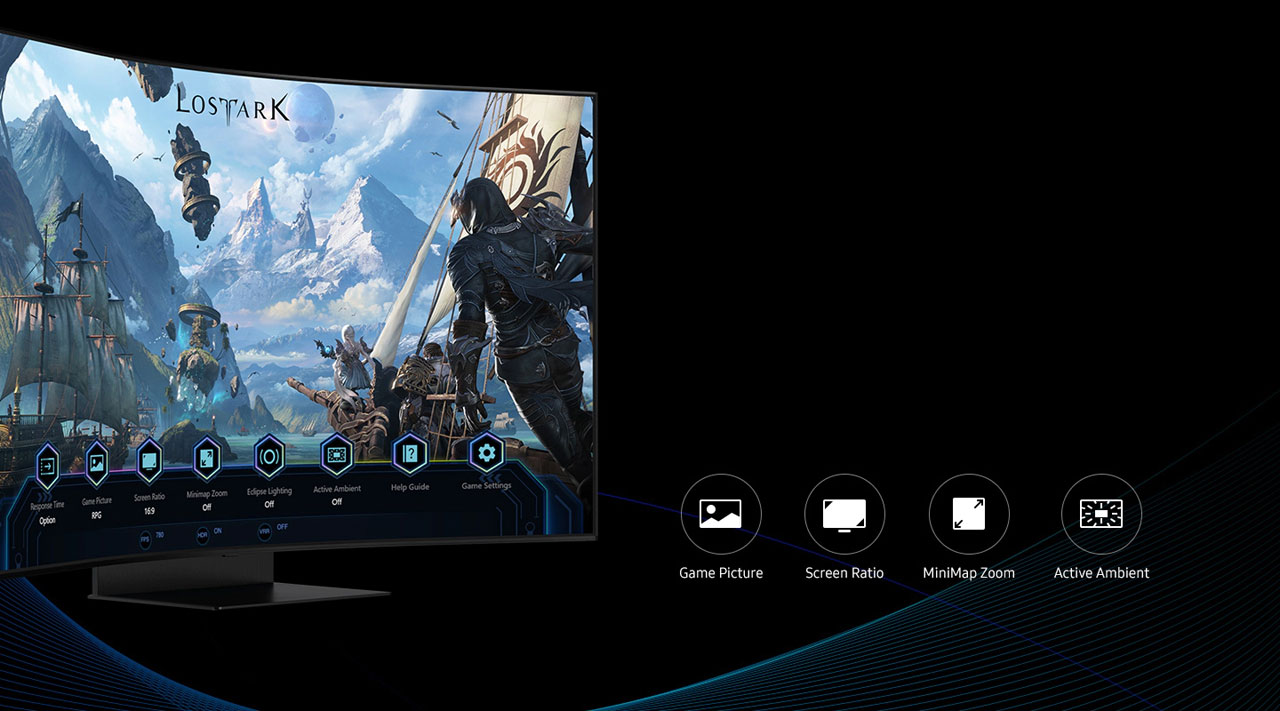 Quick, simple setup seizes the win
Game Bar
Review and tailor game settings in an instant. Now, you can easily view the status of important settings — FPS (Frames Per Second), HDR (High Dynamic Range) and VRR (Variable Refresh Rate) — with our integrated UI. Optimize response time or screen ratio, as well as the game picture mode without having to leave your session.
* The Game Bar's Screen Ratio can be changed only when the Ultra Wide resolution is supported in a game or PC.