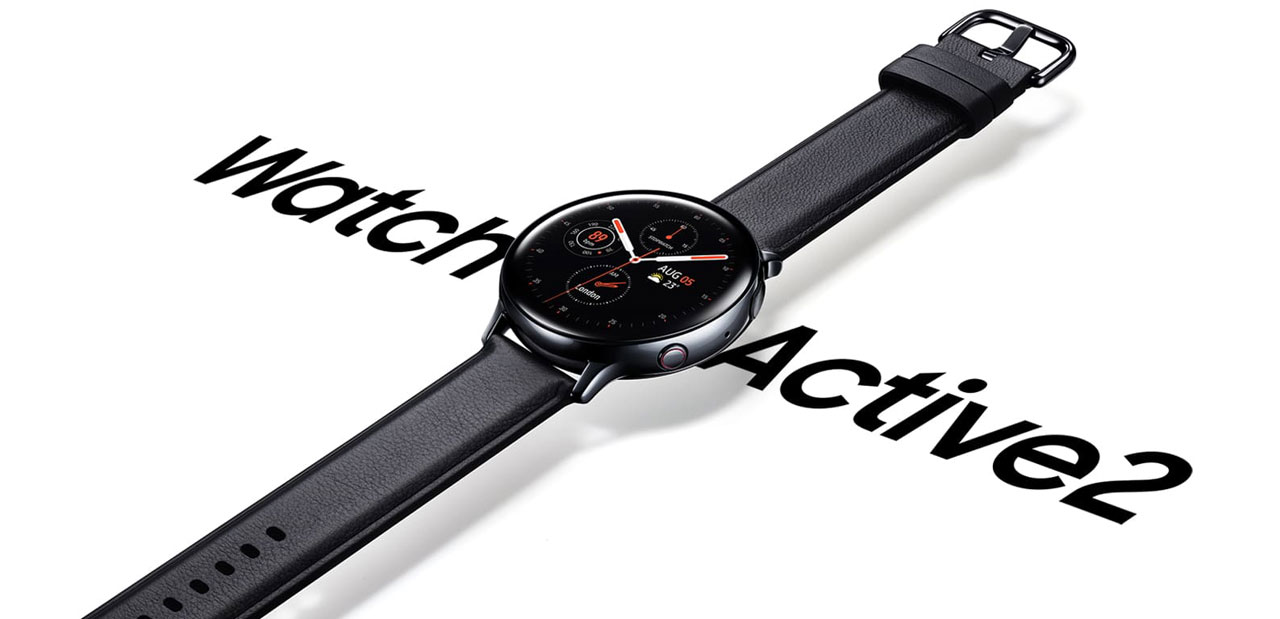 Samsung Galaxy Watch Active2

Your great wellness partner, the Galaxy Watch Active2 incorporates an array of sensors to track popular sports, monitor your sleep, and track your heart rate, as well as gives advice on workouts like your personal coach. It pairs with your phone and receives notifications, so you can check them with a simple turn of your wrist. In addition to pre-installed apps, more apps are available to download to customize and enhance the capability of your wrist watch.
Hardware wise, the Galaxy Watch Active2 comes equipped with dual-core processor, 0.75 GB (aluminum) / 1.5 GB (stainless steel) RAM, 4 GB ROM, and a 1.35″ (44 mm) / 1.2″ (40 mm) Super AMOLED display with 360×360 resolution. IP68 rating and MIL-STD-810G durability mean more peace of mind when exposed to challenging environments. Choose from two sizes (44 mm & 40 mm), two materials (aluminum & stainless), and multiple colors to suit your needs.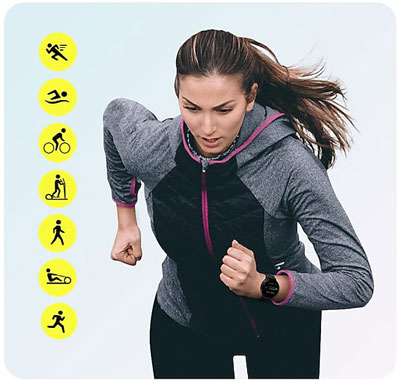 Better insights to reach your fitness goals

Get more out of every movement with the Galaxy Watch Active2. Its advanced sensors track up to 39 distinct activities, keep pace on a jog and help you better achieve your goals.
It automatically tracks seven popular activities: walking, running, cycling, rowing, elliptical trainer, dynamic workouts and swimming.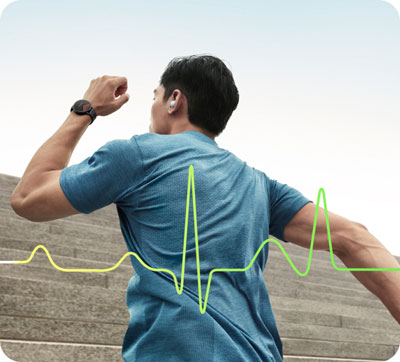 Keep your beat.

You can see if your heart rate is where you want it with the Galaxy Watch Active2. Get automatically alerted if your watch detects a high or a low heart rate.1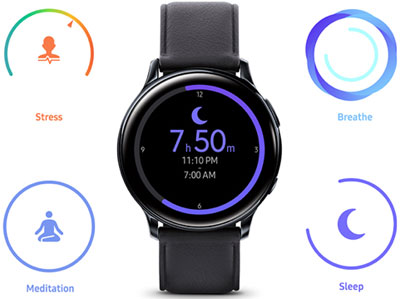 Level up your downtime.

Galaxy Watch Active2's built-in sleep tracker offers valuable insights on how to get a better night's sleep. It also monitors your stress level and helps you recenter with the integrated Calm app.1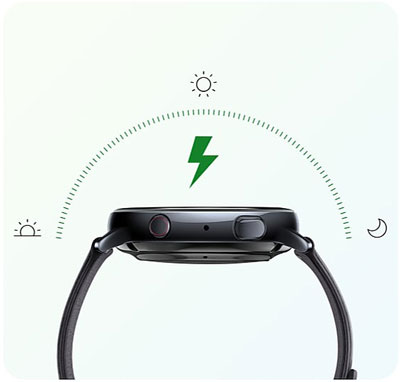 Battery built for endurance

The Galaxy Watch Active2's long-lasting battery can go for days on a single charge, and you can always get a quick boost from your compatible Galaxy phone with Wireless PowerShare.2, 3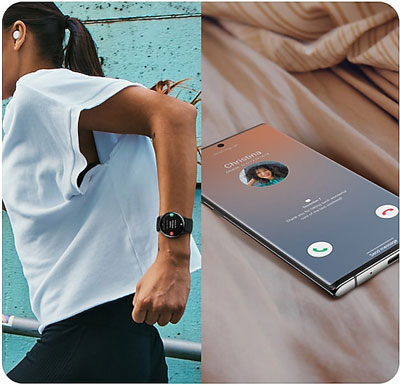 Connected, even on the move

With LTE connectivity on the Stainless Steel Galaxy Watch Active2, you can leave your phone behind.6 Call, text, pay or stream Spotify or YouTube right from your wrist; and receive all of your notifications quickly and discreetly.4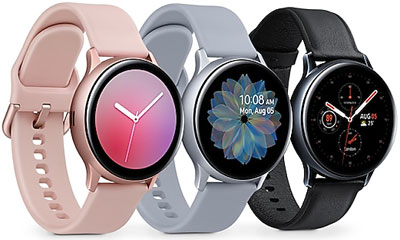 Android or iOS compatible

The stainless steel Galaxy Watch Active2 pairs seamlessly with Android devices while the aluminum watch pairs with Android and iOS compatible devices.5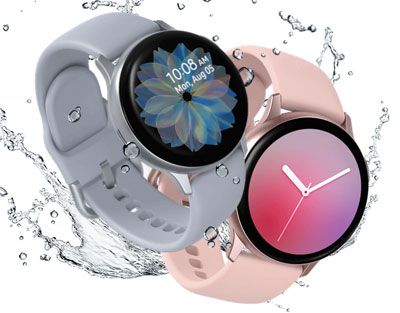 Keeps up where you go

Take your watch along on the road less traveled. Galaxy Watch Active2 goes where you go with a 5ATM water resistance rating plus military grade durability to handle a range of conditions, so you can keep it on to go further and experience more. 6, 7
Seamless integration with your favorite apps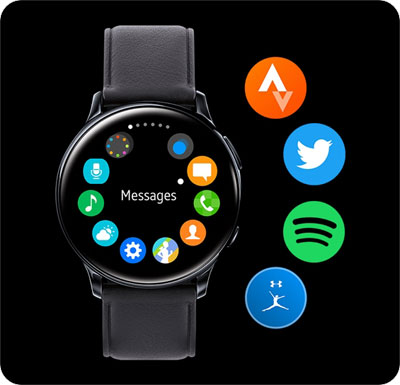 Do more with Bixby.

Galaxy Watch Active2 listens to your commands with Bixby voice functionality.8 Tell it to read your texts, make a call or crank up your Spotify playlist.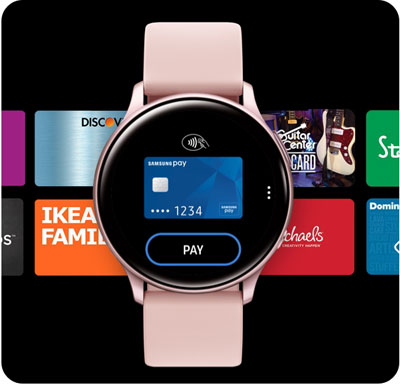 Forget your wallet.

Leave your wallet at home; Samsung Pay, accepted at most standard checkouts, is right on your Galaxy Watch Active2.9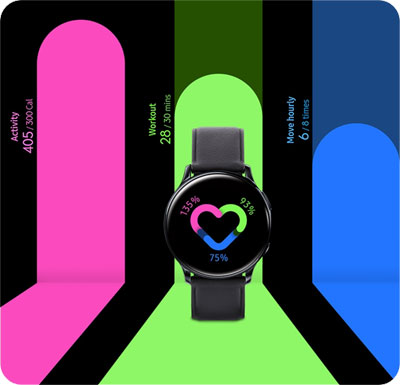 Understand your health.

Take a deeper dive with the Samsung Health app on your phone to gain better insights into your overall health data so you can set new goals.1
Comfortably sleek design for any style

With a thin, light design, Galaxy Watch Active2 is fit for any time and for any occasion, from working out to sleeping in. The Super AMOLED display is all screen from edge to edge. The touch bezel allows you to easily navigate with a quick turn, touch or tap. Available in chic aluminum or stylish stainless steel and with a variety of faces, bands and finishes, there's a Galaxy Watch Active2 for any style.

Colors

Choose from a select range of colors for the stainless steel and aluminum designs.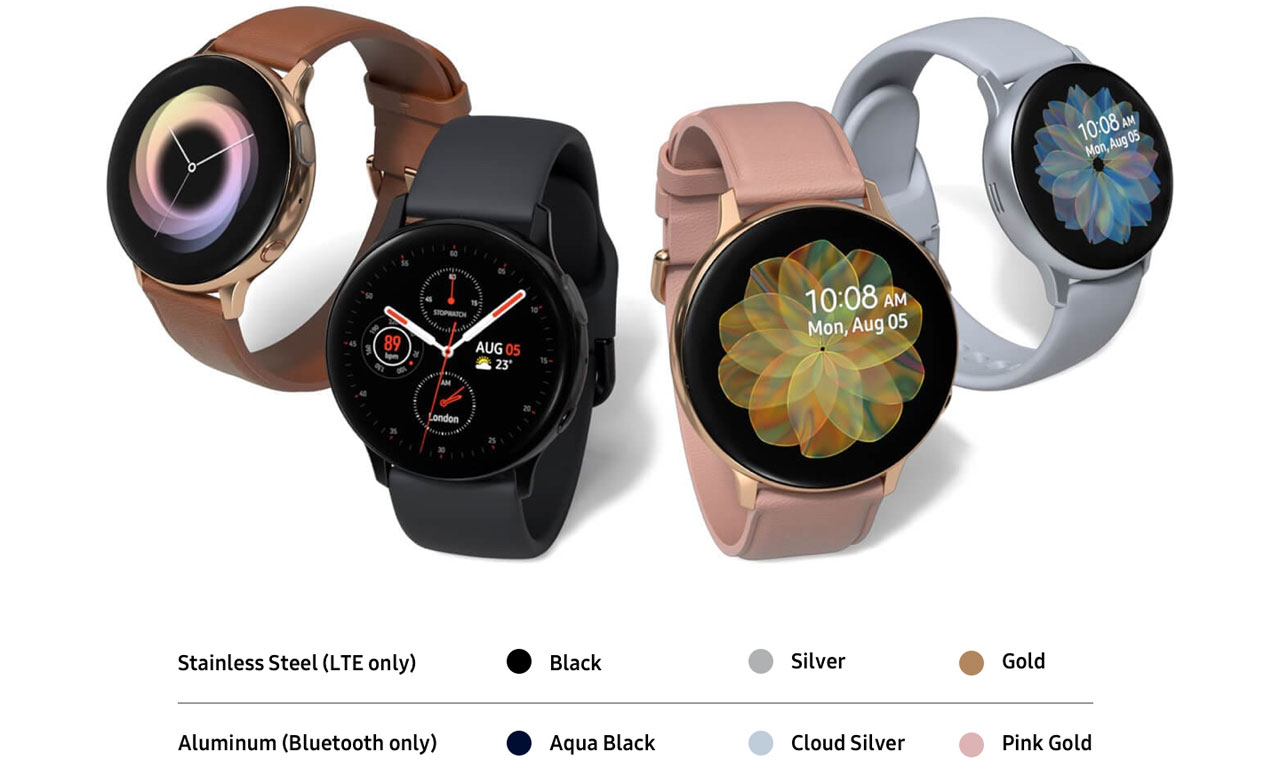 1. This device and related software are not intended for use in the diagnosis of disease or other conditions, or in the cure, mitigation, treatment or prevention of disease.
2. 44mm version lasts longer than 40mm version. Average expected performance based on typical use. Results may vary.
3. Works with Qi compatible Samsung devices (compatibility with non-Samsung Qi devices not guaranteed); speed and power efficiency of charge varies by device.
4. Samsung Pay is not available on iOS smartphones. After initial setup, Samsung Pay on Galaxy Watch Active2 can make at least five transactions without reconnecting to a network.
5. Compatible with select Bluetooth-capable smartphones. Galaxy Watch Active2-supported features may vary by carrier and compatible device.
6. Galaxy Watch Active2 is 5ATM certified and has a water resistance rating of 50 meters under the ISO standard 22810:2010. It is not suitable for diving or high-pressure water activities. If the device or your hands are wet, they must be dried thoroughly prior to handling.
7. US Military Standard Compliant (MIL-STD-810G) MIL-STD-810: Environmental Engineering Considerations and Laboratory Tests is a United States Military Standard that emphasizes tailoring an equipment's environmental design and test limits to the conditions; MIL-STD-810G: + Humidity, Altitude Storage, Altitude Operational, Immersion
8. Most Bixby voice functionality requires LTE or Bluetooth connection to a phone. LTE version requires initial set up for standalone use.
9. Samsung Pay is not available on iOS smartphones. After initial setup, Samsung Pay on Galaxy Watch Active2 can make at least five transactions without reconnecting to a network.